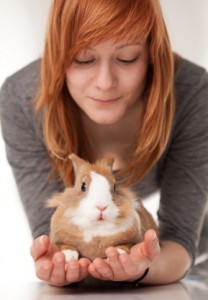 Rabbit breeders are an excellent place to find your new pet, especially if you have a particular breed or color in mind or if you want to start showing rabbits yourself. Rabbit breeders tend to be very outgoing people that love to talk about their bunny hobby so don't be shy about getting in touch with them to ask questions. Check out our pages on giant breeds, lop eared breeds and dwarf breeds to see if one of these rabbits might be perfect for you!
One of the best places to start your breed search is with the American Rabbit Breeders Association (ARBA). The ARBA organization is the governing body for all things related to show rabbits in the USA and they maintain a list of registered breeders that are members.
You can check out their website at www.ARBA.net, send them an email at info@arba.net or give them a call/ write them a letter with your questions (all contact info can be found on their web page).
When you find a breed and are ready to take home a new rabbit don't forget to check him/ her over using our 3 point heath inspection.
var _gaq = _gaq || []; _gaq.push(['_setAccount', 'UA-45723812-1']); _gaq.push(['_trackPageview']);
(function() { var ga = document.createElement('script'); ga.type = 'text/javascript'; ga.async = true; ga.src = ('https:' == document.location.protocol ? 'https://ssl' : 'http://www') + '.google-analytics.com/ga.js'; var s = document.getElementsByTagName('script')[0]; s.parentNode.insertBefore(ga, s); })();